Canada
2006, 110 min

Section: Horizons
Year: 2007
Fiona and Grant's serene, almost forty years of coexistence falls apart when the aging but still attractive woman comes down with Alzheimer's disease. The famous Canadian actress's directorial debut is one of the most acclaimed movies of the 2006/2007 festival season. The legendary Julie Christie stars in one of the lead roles.
Synopsis
Sarah Polley, a Canadian actress notable not only for her talent but also her careful choice of roles, selected Alice Munro's "The Bear Came Over the Mountain" for her feature film directorial debut. The story tells of a married couple whose nearly forty years of carefully built intimacy is disrupted by Alzheimer's disease. Fiona's and Grant's quiet coexistence in a log cabin in the middle of a snowy countryside falls apart when the aging but still attractive woman suffering from increasing memory lapses willingly leaves for a medical institution. Day by day, the devastated Grant becomes a passive observer of the new reality and estrangement that suddenly closes in on the love of his life. The 28-year-old director made this exceptionally mature film without sentimental ostentation and with understandable emphasis on the acting performances of Gordon Pinsent and the now legendary Julie Christie.
About the director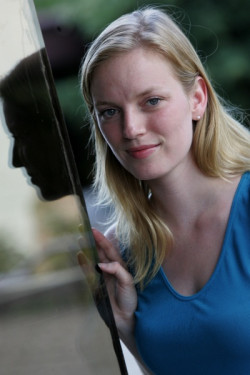 Sarah Polley (b. 1979, Toronto) most noticeably drew attention as an actress with her role as Nicole in Atom Egoyan's drama The Sweet Hereafter, for which she received Boston and Chicago Film Critics' Awards. She has starred in films by Michael Winterbottom (The Claim), David Cronenberg (eXistenZ), and Hal Hartley (No Such Thing). Her role in the film My Life Without Me (shown at the KVIFF in 2003) won her a Genie, the Canadian national film prize, for best actress. In 2003 Polley personally presented the Czech premiere of Wim Wenders' film Don't Come Knocking at the KVIFF. Sarah Polley has been writing screenplays and making shorts (such as I Shout Love, which won the Genie award for best short film) since 1999. Away from Her is her feature film debut.
About the film
Color, 35 mm

| | |
| --- | --- |
| Section: | Horizons |
| | |
| Director: | Sarah Polley |
| Screenplay: | Sarah Polley, podle povídky Alice Munroové The Bear Came Over the Mountain / based on the short story The Bear Came Over the Mountain by Alice Munro |
| Dir. of Photography: | Luc Montpellier |
| Music: | Jonathan Goldsmith |
| Editor: | David Wharnsby |
| Producer: | Daniel Iron, Simone Urdl, Jennifer Weiss |
| Production: | The Film Farm, Foundry Films |
| Cast: | Julie Christie, Gordon Pinsent, Olympia Dukakis, Michael Murphy, Kristen Thomson |
| Contact: | HanWay Films, Magic Box - division Bioscop |
| Distributor: | Magic Box - division Bioscop |
Guests
Thorsten Schumacher
Sales Agent
Andrea Metcalfe
Distributor
Irena Prokopová
Distributor
Robert Schaffer
Distributor