Croatia / Germany / Bosnia and Herzegovina
2007, 82 min

Section: East of the West - Competition
Year: 2007
This intimate story recounts the tale of a father and son who set off from their remote little Bosnian town and head for a five-star Zagreb hotel. They plan to conquer the world and land 14-year-old Armin the starring role in a planned film.
Synopsis
It's a big day for 14-year-old Armin and especially for his father Ibro, who set off from their God-forsaken little Bosnian town for the capital of Croatia. A film crew from Germany has arrived in Zagreb who plan to film a story about the recent war and they're holding auditions for the part of the main child character. The boy is relatively calm about the whole thing, whereas his father sees it as the only chance to fulfil his buried dream of a happy and financially secure life. It appears that Ibro is willing to do anything to ensure his son's success. Beg, cajole and even humiliate himself if need be, which Armin finds extremely distressing. He feels he is being betrayed by the person closest to him. The moment it seems that they have come all this way for nothing (even though they are both awestruck by the luxury hotel room), they get an unexpected offer. And the father's reaction to it is just as surprising. For Armin, however, it's proof of the love he had begun to have doubts about. This original, intimate story is related in a quasi-documentary style.
About the director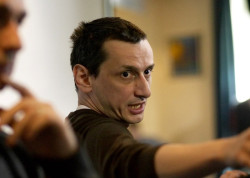 Ognjen Sviličić (b. 1971, Split, Yugoslavia), screenwriter and director, studied at the Academy of Dramatic Art in Zagreb and was soon making his first TV film Full House (1997). His next film was also made for television, Ante Is Coming Home (2002). The mosaic of stories and experiences of a night in Split If I Were a Shark (1999) was hailed Best Croatian Film at the Pula festival and was the domestic box-office hit of the year. Comic hyperbole also typifies the story Sorry for Kung Fu (2004). Its heroine is the pregnant Mira, who returns from Germany to her native village and her relatives pass her off as a wretched widow until she gives birth to a slant-eyed little boy. Armin, screened at this year's Berlinale in the Forum section, is also one of a series of film miniatures for which he wrote the screenplay, among other things. He composed the music for his first two films and, for Armin, he also recorded the guitar tracks.
About the film
Color, 35 mm

| | |
| --- | --- |
| Section: | East of the West - Competition |
| | |
| Director: | Ognjen Sviličić |
| Screenplay: | Ognjen Sviličić |
| Dir. of Photography: | Stanko Herceg |
| Music: | Michael Bauer (Werkstatt Raben), Georg Karger, Peter Holzapfel |
| Editor: | Vjeran Pavlinić |
| Producer: | Damir Teresak, Mirko Galić, Markus Halberschmidt, Marcelo Busse, Ademir Kenović |
| Production: | Mixima Film, busse & halberschmidt, Refresh Production |
| Cast: | Emir Hadžihafizbegović, Armin Omerović-Muhedin, Jens Münchov, Marie Bäumer, Barbara Prpić, Orhan Güner |
| Contact: | MDC Int. GmbH, busse & halberschmidt |
| | |
| www: | www.mdc-int.de |
Guests
Marta Švecová Lamperová
Sales Agent, Film Institution Rep., Festival Organizer
Wigbert Moschall
Distributor
Ognjen Sviličić
Screenwriter