Brazil
2007, 90 min

Section: Another View
Year: 2007
What can a forty-year-old still expect from life when she is limited by well-established, if dysfunctional relationships with those closest to her? Manicurist Alice tries one more time to live her pipe-dream... An intimate look at a Brazilian family in Teixeira's highly original debut, screened at the Berlin IFF.
Synopsis
40-year-old Alice, who works as a manicurist in a beauty salon, shares a flat with her husband, a taxi-driver, her three sons and her mother Jacira. The old woman, who takes care of the home and fusses over the whole family, is gradually losing her sight. But she has long been blind to things she simply doesn't want to see – the relationships within the family. After twenty years of marriage, her daughter doesn't expect great passion; in any case, her husband Lindomar saves his energy for secret rendezvous with underage girls. Alice tries not to notice her husband's aberrations – after all, she has her own extra-marital affairs to keep her busy. At this juncture, Nilson, her erstwhile teenage love, turns up, giving her an opportunity to realise her romantic ambitions and perhaps also change her financial situation. Once more, and maybe for the last time, she dares to allow herself a pipe-dream... An intimate look at a Brazilian family in Teixeira's highly original debut, screened in its world premiere at the 57th Berlin IFF.
About the director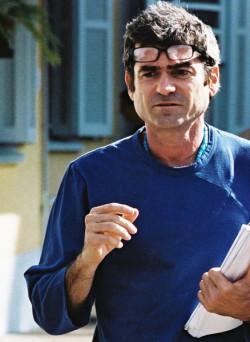 Chico Teixeira (b. 1958 Rio de Janeiro) made his first documentary film in 1989, Shanty Towns (Favelas), for which he received awards at festivals in Brazil and Portugal. His shocking documentary about the everyday lives of old people in hospital Old Age (Velhice, 1991) was screened at numerous international festivals. He won around two dozen national and three international prizes for his poetic documentary about five dwarves Creatures Born in Secret (Criaturas que nasciam em segredo, 1995), inspired by the Italian Renaissance buffone and describing the psychological and social aspects of their lives. The Inner Me (Carrego comigo, 2000), his most recent documentary, which precedes his feature-film debut Alice's House, was well received by audiences and critics alike and, in Europe, was screened on Swedish and Spanish television.
+ 1
About the film
Color, 35 mm

| | |
| --- | --- |
| Section: | Another View |
| | |
| Director: | Chico Teixeira |
| Screenplay: | Chico Teixeira, Julio Pessoa, Sabina Anzuategui, Marcelo Gomes |
| Dir. of Photography: | Mauro Pinheiro Jr. (ABC) |
| Editor: | Vânia Debs |
| Producer: | Patrick Leblanc, Zita Carvalhosa |
| Production: | Superfilmes |
| Cast: | Carla Ribas, Vinicius Zinn, Ricardo Vilaça, Felipe Massuia, Berta Zemel, Zécarlos Machado, Renata Zhaneta, Luciano Quirino |
| Contact: | WIDE |
| | |
| www: | www.acasadelalice.com.br |
Guests
Camille Rousselet
Other
Matteo Lovadina
Sales Agent