Argentina
2007, 90 min

Section: Forum of Independents - Competition
Year: 2007
An entire city has lost its voice. Mr. TV, the owner of the city's only television channel, has a sinister, secret plan to subject all the inhabitants to his will forever. An unusual movie inspired by the masters of silent film, such as Murnau, Lang, Eisenstein and Vertov.
Synopsis
In a wintry metropolis in the year xxx, the merciless Mr TV rules with an iron rod. The whole city has no voice and he alone has monopolised both word and image. People watch TV and eat the TV dinners produced by Mr TV. Mr TV is working on a sinister plan with a dangerous hypnotic machine that operates through the TV to ensure that he has control over all life forever. To achieve this, he kidnaps the only one who still has The Voice - a beautiful singer... A compelling example of the vitality and formal potential of silent film. Inspired by the work of Murnau, Lang, Eisenstein and Vertov, La antena is nevertheless a very modern film. The fairytale allegory continues to surprise the audience from one scene to the next, with sweeping, well-designed sets, wonderful use of words and, last but not least, fine performances from the cast.
About the director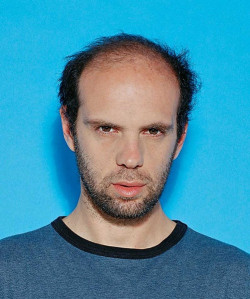 Esteban Sapir (b. 1967, Buenos Aires) studied at the Instituto Nacional de Cine de la Argentina. He is a popular and successful cameraman, both in features (La vida según Muriel, Tesoro Mío) and commercials. In 1994 he directed his first feature film, Picado Fino, which won various prizes, for instance, at the Berlinale in 1997. In 1999, with Gonzalo Agulla and José Arna, he established the company La Double A, which has so far produced more than 250 commercials, music videos and short films. In 2004 he made a documentary about the singer Shakira, shot with thirteen 35mm cameras at concerts in Rotterdam and Buenos Aires. La Antena is his second feature.
Contacts
MDC Int. GmbH
Schillerstr. 7a, D - 10625, Berlin
Germany
Tel: +49 30 264 979 00
Fax: +49 30 264 979 10
E-mail: [email protected]
www: www.mdc-int.de

About the film
Black & white, 35 mm

| | |
| --- | --- |
| Section: | Forum of Independents - Competition |
| | |
| Director: | Esteban Sapir |
| Screenplay: | Esteban Sapir |
| Dir. of Photography: | Christian Cottet |
| Music: | Leo Sujatovich |
| Editor: | Pablo Buján |
| Producer: | Jose Arnal, Gonzalo Agulla |
| Production: | LaDobleA |
| Cast: | Alejandro Urdapilleta, Rafael Ferro, Florencia Raggi, Julieta Cadinali |
| Contact: | MDC Int. GmbH |
Guests
Marta Švecová Lamperová
Sales Agent, Film Institution Rep., Festival Organizer
Wigbert Moschall
Distributor