Archive of films

And Along Come Tourists / Am Ende kommen Touristen
Germany
2007, 85 min

Section: Another View
Year: 2007
A compelling intimate story about the encounter between Sven, a young German who begins alternative military service in Oświęcim, Poland, and an old man who survived the Auschwitz concentration camp. The film opens up issues about guilt, forgiveness and understanding a history which, to the young generation, now seems so remote.
Synopsis
The young German Sven begins his alternative military service in Oświęcim in Poland – a place which is too closely associated with that wretched period in German history, and where Germans are disliked to this day. For Sven, like his contemporaries who visit the town's museum, the war and the concentration camps are a thing of the distant past, but for former inmate Stanisław Krzemiński, who survived Auschwitz, it's a wound that won't heal. Thus it proves extremely difficult for the two to find a common language, or even to start looking for one… Coming to terms with the past is a theme which not only European filmmakers feel the need to address, but also the upcoming generation of German directors. This intimate story doesn't follow the line of such films as Europa, Europa by Agnieszka Holland, Roman Polanski's The Pianist, or Fateless by Lajos Koltai. Instead it offers a contemporary, personal testimony of what remains of suffering endured over half a century ago, and examines whether we are capable of understanding it and learning from it.
About the director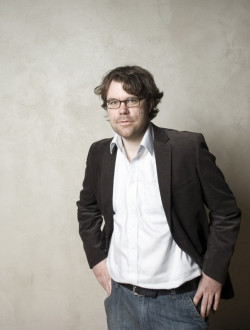 Robert Thalheim (b. 1974, Berlin) made his first television documentary Um vier Uhr plötzlich ging die Welt unter... immediately after leaving school; he then began alternative military service at the International Youth Centre in Oświęcim. He studied German literature, history and politics for two years at Berlin's Freie Universität. During the period 2000–2006 he studied direction at the Konrad Wolf Film and Television Academy in Potsdam-Babelsberg, during which time he participated in the "Hollywood Projects" for French and German television. He made another four short films (Three Percent, Zeit ist Leben, Granica, Ich) and then debuted with the feature film Netto (2004), which won a series of awards (including the Jury Prize at the Berlinale 2005). He made his second feature film in Oświęcim in 2007.
About the film
Color, 35 mm

| | |
| --- | --- |
| Section: | Another View |
| | |
| Director: | Robert Thalheim |
| Screenplay: | Robert Thalheim |
| Dir. of Photography: | Yoliswa Gärtig |
| Music: | Anton K. Feist, Uwe Bossenz |
| Editor: | Stefan Kobe |
| Producer: | Britta Knöller, Hans-Christian Schmidt |
| Production: | 23/5 Filmproduktion GmbH |
| Cast: | Alexander Fehling, Ryszard Ronczewski, Barbara Wysocka, Piotr Rogucki, Rainer Sellien, Lena Stolze |
Guests
Thorsten Ritter
Sales Agent
Robert Thalheim
Film Director, Film Director
Britta Knöller
Producer
Hans-Christian Schmid
Film Director / Producer
Alexander Fehling
Actor, Actor
Stefanie Zeitler
Distributor
Thorsten Schaumann
Festival Organizer