USA
2007, 106 min

Section: Borderline Films: The First Ten Years
Year: 2013
Screened in Un Certain Regard at Cannes in 2008, Antonio Campos' feature debut is a disturbing psychological study that unfolds around an introverted student of an elite high school who accidentally captures a shocking incident with his video camera. The presence of Haneke and Wiseman can be felt in this precise and coldly analytical look at the YouTube generation.
Synopsis
For his exceedingly personal debut, considered by many as one of the key American movies in recent years, Antonio Campos chose a topic that is itself the basis of the film. The protagonist, an introverted high school student named Robert (Ezra Miller) who perceives life primarily through internet videos, is an observer communicating with those around him by means of a camera. His video camera allows him to both record and interpret reality – and to forget about his psychological troubles. But before he has time to fully familiarize himself with the device, he captures a shocking event while shooting a school assignment that instantly disrupts the seemingly smooth operation of the elite institution. Campos acknowledges the influence of renowned documentarist Frederick Wiseman, whose film High School intrigued the young director for its depiction of the methods moralizing teachers use to communicate with their students. Formally speaking, this disturbing psychological study owes much to the coolly analytical style of Campos' role model Michael Haneke.
About the director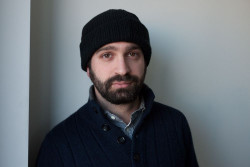 Antonio Campos (b. 1983, New York), screenwriter, producer, and director, was nominated in 2009 for an Independent Spirit Award for Best Film for his feature debut Afterschool; the film had its European premiere at Cannes, screening in Un Certain Regard. Cannes also presented his short films Buy It Now (2005, in competition) and The Last 15 (2006, Cinéfondation, main prize), and Variety magazine selected Campos as one of its "10 Directors to Watch." As a producer he cooperated on Sean Durkin's movies Mary Last Seen (2009) and Martha Marcy May Marlene (2010) and coproduced Two Gates of Sleep (2010) by fellow filmmaker Alistair Banks Griffin. At last year's Sundance festival, Campos' second feature Simon Killer was screened as a world premiere.

+ 1
About the film
Color, 35 mm

| | |
| --- | --- |
| Section: | Borderline Films: The First Ten Years |
| | |
| Director: | Antonio Campos |
| Screenplay: | Antonio Campos |
| Dir. of Photography: | Jody Lee Lipes |
| Music: | Rakotondrabe Gaël |
| Editor: | Antonio Campos |
| Producer: | Josh Mond, Sean Durkin |
| Production: | Borderline Films |
| Cast: | Ezra Miller, Jeremy White, Emory Cohen, Michael Stuhlbarg, Addison Timlin, Rosemarie DeWitt |
| Contact: | Coproduction Office |
Guests
Antonio Campos
Film Director
Ezra Miller
Actor