Czech Republic / USA
2012, 44 min

Section: Czech Films 2012–2013
Year: 2013
Taxi driver Tesfai's ex-wife is on her second honeymoon, so maybe this is a good opportunity for him to improve relations with his teenage kids. This sensitive, medium-length movie, introducing completely normal yet highly appealing characters, was awarded Best Feature Film at Prague's Famufest in 2012.
Synopsis
Tesfai works as a taxi driver even though it's clear that neither he nor his kids are any too happy about it. His ex-wife, who lives in the house with the family, is on her honeymoon, which provides Tesfai with an opportunity to get to know his children better. This story isn't burdened by hastily concocted dramas, offering instead an atmosphere of quiet anticipation that betrays a wealth of information about its charming, decent characters. This neatly constructed movie sensitively handles the topic of foreigners established in the United States who are still seeking some kind of fulfilment.
About the director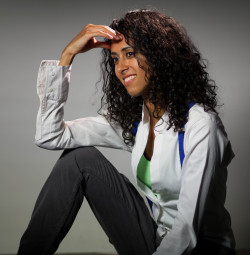 Asmara Beraki was born in San Francisco but grew up in Washington DC. Her father's Eritrean origins inspired her to make Anywhere Else, her graduation film from Prague's Film Academy (FAMU). After the picture won Best Feature Film at FAMUFest in 2012, she began teaching short film direction at the Academy. Her feature debut The Narcissists is currently in preproduction and will be shot in Prague and New York.
Contacts
FAMU - Film and TV School of the Academy of Performing Arts
Smetanovo nábřeží 2, 116 65, Praha 1
Czech Republic
Tel: +420 234 244 301
Fax: +420 234 244 363
E-mail: [email protected]
www: www.famu.cz

About the film
Color, DCP

| | |
| --- | --- |
| Section: | Czech Films 2012–2013 |
| | |
| Director: | Asmara Marek |
| Screenplay: | Asmara Beraki |
| Dir. of Photography: | Vidu Gunaratna |
| Editor: | Kristýna Toupalová |
| Producer: | Kateřina Horčicová |
| Production: | FAMU |
| Cast: | Beraki Ghebremichael, Ivana Uhliřová, Christopher Donnellon |
| Contact: | FAMU - Film and TV School of the Academy of Performing Arts |
Guests
Asmara Marek
Film Director
Vidu Gunaratna
Other
Kateřina Horčicová
Film Institution Rep., Producer
Kristýna Toupalová
Film Editor