Archive of films

As You Like It / După FEL și CHIP
Romania
2013, 21 min

Section: Documentary Films - Competition
Year: 2013
Young Romanian documentarist Paula Onet's award-winning film captures the poignant way in which a group of elderly Romanian villagers look after the portraits which already adorn their final resting place. Taken all together, the pictures might also be perceived as a public photo album.
Synopsis
Business is hopping at a photo studio in a small village not far from Cluj, Romania. Perfectly coiffed elderly residents arrive from a nearby hair salon to look their best for immortality. They are dead serious about posing for the camera, literally, for the resulting photograph will adorn the headstones of their carefully prepared graves. In her film, young Romanian documentarist Paula Oneț captures the touching way in which the villagers tend the appearance of their final resting place. Taken all together, the pictures could serve as a public photo album.
About the director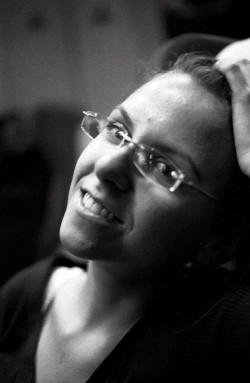 Paula Oneț is a Romanian documentarist with an interest in new media. She graduated from the theater and TV department of Babeș-Bolyai University in Cluj, and also enjoyed study stays in South Korea, Turkey, France, and Sweden. As a reporter she worked for a culture oriented program on Romanian television. She is currently working as a video artist for the 4Culture Association in Bucharest. Selected filmography: How Old Are You Korea(n) (2010), GLASs (2010), Connection Lost (2012).
About the film
Color, DCP
International premiere
| | |
| --- | --- |
| Section: | Documentary Films - Competition |
| | |
| Director: | Paula Oneț |
| Screenplay: | Paula Oneț |
| Dir. of Photography: | Paula Oneț |
| Editor: | Paula Oneț |
| Producer: | Ioana Lascar |
| Production: | Babeş-Bolyai University |
| Contact: | Paula Oneț |
Guests
Paula Oneț
Film Director
Manuela Borza
Film Crew