United Kingdom
2002, 118 min

Section: Another View
Year: 2003
Dean tries to escape from two rough and tumble environments: his family and his social class. He hopes to find understanding and refinement among the upper crust, but comes across ubiquitous degeneracy. The film was awarded at Gay and Lesbian festivals in Europe and the USA. 
Synopsis
AKA tells a partially autobiographical story on a screen divided into three sections (depicting the action simultaneously from three perspectives). Dean lives with his tyrannical father, who sexually abuses him, and with his mother, a waitress who believes that the aristocrats she serves are her friends. Dean moves to the home of Lady Gryffoyn, one of his mother's many customers. Her own son, Alex, however, is far less than pleased by Dean's presence. The young man then chances to meet an American name Benjamin, and he's off to Paris. After unsuccessfully trying to find a job, Dean poses as Alex, penetrates into the highest social circles. He finances his high-stakes lifestyle with a credit card, the fraudulent use of which comes to the attention of the British police. Dean meets David, Benjamin's sugar daddy, and is taken under his wing, but this means that Benjamin – Dean's only real friend – gets axed from David's intimate little circle. A hell similar to what Dean experienced at home begins to settle on him once again. He reveals his true identity to Benjamin but the latter isn't very sympathetic. He goes home to stand up to his father and ends up in jail, but perhaps it has all been worth finding out who he really is. The film was awarded at Gay and Lesbian festivals in Europe and the USA.
About the director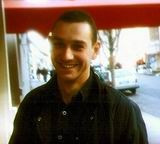 Duncan Roy (b. Whitstable, Kent) got his education at various state facilities, only later in life attending film school in Bournemouth. His filmwork followed the production of various stage performances and musicals, often autobiographical, touching on the topics of gay relationships, sexual abuse, and prostitution (Pornography, Call Me Susan, Baron in the Trees, The Host, Bad Baby, Copper's Bottom). He has shot three films, two of which were aired on the British television station Channel 4 and were put into video distribution: Clancey's Kitchen and Jackson: My Life… Your Fault. 
About the film
Color, 35 mm

| | |
| --- | --- |
| Section: | Another View |
| | |
| Director: | Duncan Roy |
| Screenplay: | Duncan Roy |
| Dir. of Photography: | Scott Taylor, Steve Smith, Claire Vinson, Ingrid Domeij |
| Music: | Matt Rowe |
| Editor: | Lawrence Catford, Jackie Ophir, Jon Cross |
| Producer: | Richard West |
| Production: | Bard Entertainments |
| Cast: | Matthew Leitch, Lindsey Coulson, Diana Quick, George Asprey, Blake Ritson, Peter Youngblood Hills, Bill Nighy, Geoff Bell, Hanah Yelland, Daniel Lee, David Kendall |
| Contact: | Bard Entertainments |
| | |
| www: | www.akamovie.com |