USSR
1976, 102 min

Section: Tribute to Larisa Shepitko
Year: 2015
This trenchant and tautly dramatic depiction sets the biblical story of Christ and Judas in wartime winter Belarus. Two soldiers have been captured by the Germans and their positions are put to a cruel test. This evocatively shot parable of the strengths and weaknesses of the human spirit won the Golden Bear at the Berlinale in 1977.
Synopsis
Images rendered in black and white, the magical snow-clad landscape, raw details, together with reflective musical motifs and artistic shots enhanced by unusual lensing and motion techniques – these are the attributes of The Ascent (Golden Bear, Berlinale 1977), a spiritual film that positioned the director alongside Andrei Tarkovsky. Her adaptation of the then newly published novella Sotnikov by Vasil Bykov, like its literary model, is a trenchant war drama played out over a few winter days in Belarus. Rybak and Sotnikov are part of a retreating unit hiding out in the woods with the inhabitants of the surrounding burned-out villages. The two soldiers have been sent out to forage for food but are captured by the Germans. The man entrusted with torturing them into divulging information is a Russian, a Gestapo henchman who at one time went to the same school as Sotnikov. Now the men stand on opposite sides, one with unlimited power at his disposal, the other with unshakable inner strength. Then it's Rybak's turn; he eventually succumbs to his fear and betrays his friend's belief in moral indomitability. The film draws us into a specific dramatic situation and mediates the action to unfold tangibly right before our eyes. We feel real, physical sensations coming straight from the screen – the severe cold, the hunger, the pain, the brutality of the oppressors, and the victims' misery. At the same time, however, The Ascent increasingly parallels the biblical story of Christ and Judas, a tale of a rise and fall to be retold time and time again.
Zdena Škapová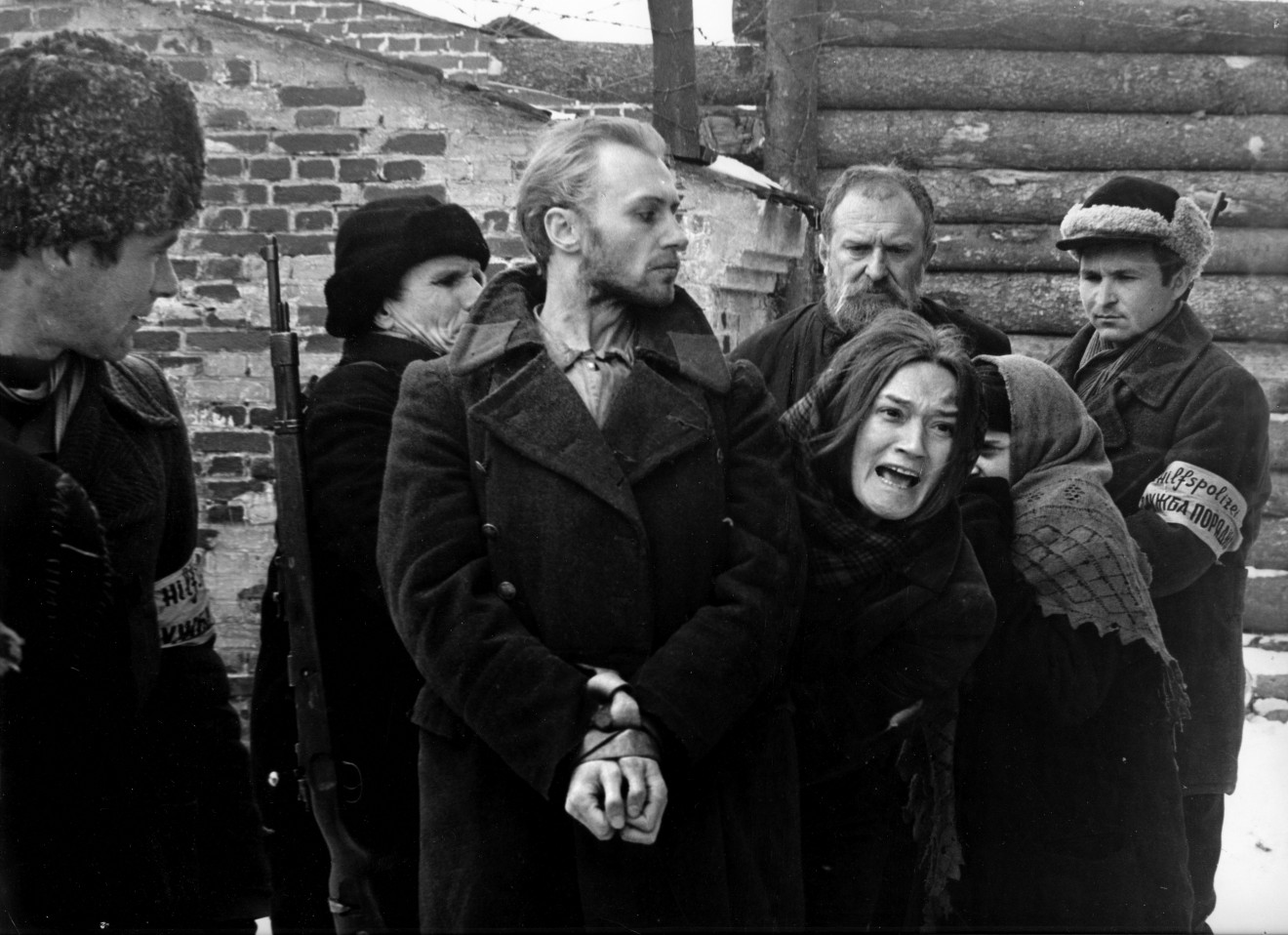 About the film
Black & white, 35 mm

| | |
| --- | --- |
| Section: | Tribute to Larisa Shepitko |
| | |
| Director: | Larisa Shepitko |
| Screenplay: | Yuri Klepikov, Larisa Shepitko podle novely / based on the novella by Vasil Bykov |
| Dir. of Photography: | Vladimir Chukhnov, Pavel Lebeshev |
| Music: | Alfred Schnittke |
| Editor: | Valeriya Belova |
| Art Director: | Yuri Raksha |
| Production: | Mosfilm |
| Cast: | Boris Plotnikov, Vladimir Gostyuchin, Sergei Yakovlev, Lyudmila Polyakova |
| Sales: | Mosfilm Cinema Concern |
| Contact: | Contemporary Films, Ltd. |
Guests
Anton Klimov
Other