Romania / Bulgaria / Czech Republic
2015, 108 min

Section: Horizons
Year: 2015
Wallachia 1835: a hired constable and his son set out in search of an escaped Gypsy slave.… A black-and-white "Eastern" exploring Romania's collective memory. New Wave director Radu Jude's third motion picture took the Silver Bear for direction at the Berlinale.

Synopsis
Wallachia 1835: a hired constable and his son set out in search of an escaped Gypsy slave... In his third feature, Radu Jude deviates from his usual poetic of terse stories set in the present. Here he replaces the oppressive spaces of urban dwellings with country landscapes where an elaborate historical drama unfolds involving the rebirth of the country into a modern society after the Ottomans are defeated in the latest Russo-Turkish War. Aferim! thereby expands the thematic spectrum of the Romanian New Wave deeper into the past, whose recidivism – racism, xenophobia, abuse of women – bubbles up from the collective memory. Such is evoked in the script by means of folk crafts, religious traditions, and quotations from period literature. A number of the plot motifs are connected to the simple Western storyline in which an outlaw is hunted by a lawman. Genre iconography is rounded out with powerful black-and-white lensing, incomparable exteriors, and the careful reconstruction of set and costume.
Jan Křipač
About the director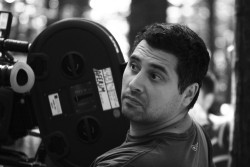 Radu Jude (b. 1977, Bucharest) graduated in film direction from Media University in Bucharest in 2003. As an assistant director he worked with Costa-Gavras on Amen (2002) and with Cristi Puiu on The Death of Mr. Lăzărescu (Moartea domnului Lăzărescu, 2004). He has shot nearly 100 commercials and several shorts, including the most highly-awarded Romanian short of all time, The Tube with a Hat (Lampa cu căciulă, 2006). His feature film debut The Happiest Girl in the World (Cea mai fericită fată din lume, 2009) won the CICAE Award at the Berlinale, while the drama Everybody in Our Family (Toată lumea din familia noastră, 2012) was the victor of the IFF in Sarajevo. For this year's Aferim! he received a Silver Bear for Best Director (ex aequo) at the Berlin IFF.
About the film
Black & white, DCP

| | |
| --- | --- |
| Section: | Horizons |
| | |
| Director: | Radu Jude |
| Screenplay: | Radu Jude, Florin Lăzărescu |
| Dir. of Photography: | Marius Panduru |
| Music: | Trei Parale |
| Editor: | Cătălin Cristuțiu |
| Art Director: | Augustina Stanciu |
| Producer: | Ada Solomon |
| Production: | Hi Film Productions |
| Coproduction: | KLAS Film, endorfilm |
| Cast: | Teodor Corban, Mihai Comănoiu, Alberto Dinache, Mihaela Sîrbu |
| Sales: | Beta Cinema GmbH |
| Distributor: | Artcam Films |
Guests
Cosima Finkbeiner
Sales Agent
Ada Solomon
Producer
Jiří Konečný
Producer
Tassilo Hallbauer
Sales Agent
Dirk Schuerhoff
Sales Agent
Sylvie Leray
Distributor, Producer
Anna Kopecká
Distributor, Festival Organizer
Hedvika Petrželková
PR & Marketing, Film Institution Rep.
Artemio Benki
Producer, Distributor, Film Director