Archive of films

All About Them / À trois on y va
France
2015, 86 min

Section: Horizons
Year: 2015
Charlotte and Micha are in love and have decided to buy a house together. But for some time now Charlotte has been cheating on her boyfriend with his old acquaintance Mélodie. Although Micha doesn't suspect anything he feels a bit neglected, so he starts cheating on Charlotte – with Mélodie as well. They're all lying to each other but none of them wants to hurt anyone. The appeal of this provocative and witty comedy lies in its ability to balance suspense, humor, and melancholy.
Synopsis
Young artists Micha and Charlotte are planning their future together when a minor obstacle appears on the scene in the shape of Mélodie, a girl from Micha's past. Charlotte falls for her and starts up a relationship, but she doesn't mean any harm by it. Micha has no idea that he's being duped but, because he feels somewhat sidelined, he starts cheating as well – also with Mélodie, who is more embarrassed than pleased with the way things are turning out. In Just a Sigh (2013), Jérôme Bonnell once again explores the theme of chance romantic encounters. This time, however, he deals with an unusual love triangle whose participants lie in order to make everything appear normal because they don't want to hurt each other. The plot stacks up its comic situations and witty gags as the characters helplessly fudge, not with the actual intention of cheating on their partners but because they are simply lost in their own emotions. This enchanting light comedy is reminiscent of Marivaux, but also of Eric Rohmer, who achieved a fine balance between the comic and the melancholy.
Eva Zaoralová
About the director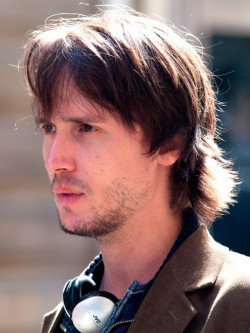 Jérôme Bonnell (b. 1977, Paris) spent two years studying film at the University of Paris VIII and then shot the short film Fidèle (1999), which stars Nathalie Boutefeu, whom Bonnell then cast in his four feature films. The first of these was Olga's Chignon (Le chignon d'Olga, 2002), which won the FIPRESCI Prize at the Chicago IFF, where the director also competed with his next work, the comic drama Les yeux clairs (2005), awarded France's Jean Vigo Award). He kept to the same genre for his film Waiting for Someone (J'attends quelqu'un, 2007) and then opted for the crime drama in The Queen of Clubs (La dame de trèfle, 2010). He describes a brief romantic encounter in Just a Sigh (Le temps de l'aventure, 2013), screened in competition at Tribeca and in KVIFF's Horizons section in 2013.
About the film
Color, DCP

| | |
| --- | --- |
| Section: | Horizons |
| | |
| Director: | Jérôme Bonnell |
| Screenplay: | Jérôme Bonnell, Maël Piriou |
| Dir. of Photography: | Pascal Lagriffoul |
| Music: | Mike Higbee |
| Editor: | Julie Dupré |
| Producer: | Edouard Weil |
| Production: | Rectangle Productions |
| Cast: | Anaïs Demoustier, Sophie Verbeeck, Félix Moati |
| Sales: | Versatile |
Guests
Jérôme Bonnell