Archive of films

Above and Below / Above and Below
Switzerland / Germany
2015, 124 min

Section: Variety Critics' Choice
Year: 2015
A not-quite-documentary probing the damaged psyches of five characters floating on the margins of American society, whom the director filmed in their frequently shocking environments over a number of years. Unconcerned with sensationalism, the film presents a focused study that reveals its creator's deft hand at social anthropology.

Synopsis
A mesmerizing plunge into the damaged psyches of five characters floating on the margins of American society, from a couple scraping by in a Las Vegas drainage tunnel to the young woman determined to be among the first crew to colonize Mars, this remarkable graduation film serves as a perfect companion piece to the wave of post-apocalyptic stories flooding television and megaplexes. The latest (and best) in an unlikely subgenre of not-quite-documentaries to spring up around the desolate expanse beyond California's Inland Empire, Above and Below delves into a patch of the American frontier that appears even less inhabitable now than it did in the time of John Ford classics. These dried-up lakes and sun-scorched vistas offer fertile soil for the artistic-minded, in this case concentrating on five individuals who simply don't fit into the modern world as we know it.
Peter Debruge
About the director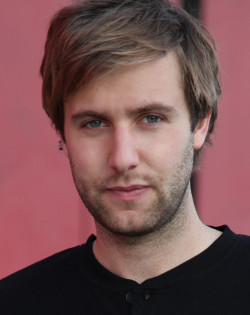 Nicolas Steiner (b. 1984, Sion, Switzerland) attended the European Film College in Denmark in 2005-2006 before studying ethnology, film studies, and political science at the University of Zurich. He then studied direction at the Filmakademie Baden-Württemberg in Ludwigsburg. As a teenager he accepted a number of roles in Swiss movies. As a director he made the comedy short It's Me. Helmut (Ich bin's. Helmut, 2009), the short animated film Eiskarl (2014), and the feature-length documentary Battle of the Queens (Kampf der Königinnen, 2011), the latter of which captures the atmosphere of an annual Swiss celebration focusing on "raging cows" at a giant outdoor arena. The quasi-documentary Above and Below, which Steiner shot over several years in the US, competed at this year's festival in Rotterdam.
About the film
Color, DCP

| | |
| --- | --- |
| Section: | Variety Critics' Choice |
| | |
| Director: | Nicolas Steiner |
| Screenplay: | Nicolas Steiner |
| Dir. of Photography: | Markus Nestroy |
| Music: | John Gürtler, Jan Miserre, Lars Voges |
| Editor: | Kaya Inan |
| Producer: | Brigitte Hofer, Cornelia Seitler, Helge Albers |
| Production: | Maximage |
| Coproduction: | Flying Moon |
| Cast: | Edward Cardenas, Cynthia Goodwin, Richard F. Ethredge |
| Sales: | Maximage |
| | |
| www: | www.aboveandbelowfilm.com |
Guests
Nicolas Steiner
Catherine Ann Berger
Film Institution Rep.