Hungary
2004, 120 min

Section: Official Selection - Competition
Year: 2004
An ordinary town-dweller arrives in the Hungarian countryside to take over a crumbling building he has inherited from a distant relation. The mistrustful inhabitants of scattered farms soon draw him into strange events whose meaning remains hidden from the visitor. Everything turns around the murder of a fifteen-year-old girl...
Synopsis
A man of about forty-five comes to the countryside to take over a crumbling building which he has been left by a distant relation. Immediately upon his arrival he witneses the rough agricultural worker Romek cursing his fifteen-year-old daughter for meeting the young man Simon. Then on a borrowed motor-bike the newcomer goes from one lonely farm to another to ask the way; none of the suspicious inhabitants will help him. On the contrary, the local people draw him into their problems. The hero is twice knocked unconscious after falling from his bike and does not remember what happened to him. He learns that someone brutally murdered Romek's daughter. Past events flow together with the present and the murderer could be anyone... The film, told in a meditatively slow rhythm, breaks down all ideas about time, about the sequence of situations and the space in which everything is played out. By means of simple indications, details and splendidly chosen settings, a mysterious, even eerie atmosphere is created, reminiscent of a waking dream.
About the director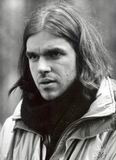 Attila Janisch (b. 1957, Kecskemét, Hungary) is the pupil of the well known director, actor and designer Zoltán Fábri. Filmography: In the Shadow (1980); Robert and Robert (1981); Zizi (1982); The Other Bank (1983); Holding Our Breath (1985); his feature film debut Shadows on the Snow (1991); The Rhymer 1-6 (1993); Island Diary (1994); Waiting (1995); World Painted by Legs (1996); Long Twilight (1997); Yvette Bozsik (2002); After the Day Before (2004).
Contacts
Hungarian National Film Fund
Róna utca 174., 1145, Budapest
Hungary
Tel: +36 146 113 01, +36 146 113 20
www: www.filmunio.hu, www.filmfund.hu

Mokép Co. / Hungarofilm Division
Bajcsy-Zsilinszky út 7., H-1065, Budapest
Hungary
Tel: +36 1 267 3026
Fax: +36 1 267 3140
E-mail: [email protected]
www: www.mokep.hu

About the film
Color, 35 mm
International premiere
| | |
| --- | --- |
| Section: | Official Selection - Competition |
| | |
| Director: | Attila Janisch |
| Screenplay: | András Forgách |
| Dir. of Photography: | Gábor Medvigy |
| Music: | Arvo Pärt, Hans Mittendorf, Schachram Poursoundmand |
| Editor: | Anna Kornis |
| Producer: | Péter Miskolczi |
| Production: | Eurofilm |
| Cast: | Tibor Gáspár, Bori Derzsi, Sándor Czeczó, Dénes Ujlaki, Kati Lázár |
| Contact: | Hungarian National Film Fund, Mokép Co. / Hungarofilm Division |
Guests
Annamária Basa
Attila Janisch
Péter Miskolczi
Producer