Archive of films

Anita Takes a Chance / Anita no perd el tren
Spain
2000, 90 min

Section: Focus on Catalan Film
Year: 2004
The tragicomic tale of a middle-aged woman who loses her job of 34 years when the movie theatre where she works is torn down. But at the demolition site, where now a new multiplex is under construction, the freshly-retired, vital, fifty-something woman finds the adventure of a lifetime. 
Synopsis
After 34 years as the cashier at a suburban movie theatre, Anita's world suddenly falls apart. Upon returning from vacation she finds herself barred from resuming her old way of life. Instead of her box office window, she is greeted by a demolition crew: the hum of projectors has been replaced by the din of bulldozers. The new owner disdained the antiquated theatre and decided to tear it down – to make way for a multiplex. Though only in her fifties, Anita is forced into early retirement. After 2424 films which she substituted for real-life experience, the shock of her sudden reversal of fortunes prevents Anita from pulling herself together. A chance love affair and the hope it brings proves to be a milestone in Anita's life, helping her separate what is now past from what will be her future.
About the director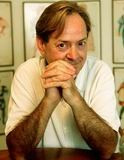 Ventura Pons (b. 1945, Barcelona) started out as a theatre director at age 21, then in 1978 pleased audiences with his debut film Ocana, an Intermittent Portrait (Ocaňa, retrato intermitente). With thirteen features to date (eleven produced at Els Films de la Rambla S.A, founded in 1985) he ranks among the top Catalonian directors. His comedies are especially popular. In addition to awards at various festivals, he has also been honoured with retrospectives. Filmography: El vicario de Olot (1981), La rubia del bar (1986), Puta Miseria! (1989), Qué te juegas, Mari Pili? (1990), Esta noche o jamás (1991), Rosita, Please! (1993), What It's All About (El porqué de las cosas, 1994, national award for cinematography), Actresses (Actrices, 1996), MMB: Memory Notebook (MMB: cuaderno de memoria, 1996), Caresses (Carícias, 1997), Beloved/Friend (Amigo/Amado, 1998), Morir (o no), (1999), Anita Takes a Chance (Anita no perd el tren, 2000).
Contacts
Els Films de la Rambla S.A.
Casp, 59, 08010, Barcelona
Spain
Tel: +34 932 653 026
Fax: +34 932 323 870
E-mail: ram[email protected]

Instituto de la Cinematografía y de las Artes Audiovisuales
Plaza del Rey 1, 28004, Madrid
Spain
Tel: +34 917 017 000, +34 917 017 259
Fax: +34 917 017 394
E-mail: [email protected]
www: www.icaa.es

About the film
Color, 35 mm

| | |
| --- | --- |
| Section: | Focus on Catalan Film |
| | |
| Director: | Ventura Pons |
| Screenplay: | Ventura Pons, Lluís-Anton Baulenas |
| Dir. of Photography: | Mario Montero |
| Music: | Carles Cases |
| Editor: | Pere Abadal |
| Producer: | Ventura Pons, Aintza Serra |
| Production: | Els Films de la Rambla S.A. |
| Cast: | Rosa Maria Sardà, José Coronado, María Barranco, Jordi Dauder, Roger Coma, Albert Forner |
| Contact: | Els Films de la Rambla S.A., Instituto de la Cinematografía y de las Artes Audiovisuales |
| | |
| www: | www.venturapons.com |
Guests
Angela Bosch Rius
Distributor
Xavier Marcé