Archive of films

Absolut Warhola / Absolut Warhola
Germany
2001, 80 min

Section: Documentary Films in Competition
Year: 2002
A poetic search for the roots of the American pop idol Andy Warhol, traced back to the remote Slovak village of Miková, the home of his parents before they travelled overseas. His proud relatives reminisce about this controversial artist; to them he is only "our Andrejko," enhancing the reputation of his native region all over the world.
Synopsis
Located somewhere between Slovakia, Poland and Ukraine is Europe's only Pop Art museum. Stanislaw Mucha's documentary film traces the roots of America's pop icon Andy Warhol which reach as far as Medzilaborce and its neighbouring villages – his parents' home before they left for the New World. "Yes, the Warhols live in Miková, the proudest people under the sun, ever since they heard on television that their Andy wasn't just a house painter but an artist of world renown," says the director, who wandered into this forgotten region in the early 1990s during his travels across Eastern Slovakia. One of the branches of the huge Warhol clan made its way across the ocean, but all the rest stayed behind in a remote village where, if you're not a related to your neighbour, you're taken for a foreigner, and where one bottle of plum brandy can be exchanged for ten wristwatches. Andy's cousins, uncles and aunts only have a hazy idea about their famous relative, but they're eager to assert what they know all the same. They have their own name for this controversial artist, who has remained their very own "Andrejko" and, in using it, the old settlers and their descendants underline their detachment from a world so incredibly far away.
About the director
Stanislaw Mucha (b. 1970, Nowy Targ, Poland) studied at the Ludwig Solski School of Dramatic Arts in Cracow (1989–1993); he also worked as a member of the company and assistant director at the Helena Modrzejewska Old State Theatre in Cracow (1994). From 1995 to 2000 he studied at the Konrad Wolf Hochschule für Film und Fernsehen in Potsdam-Babelsberg, and in 1999 received a grant to study at the Akademie Schloss Solitude in Stuttgart. Filmography: Puppet Doctor (Lekarz lalek, 1995, doc.), Bausinn (1996, feature), Polish Passion (Polnische Passion, 1997, doc.), The Table (Der Tisch, 1998, feature), A Miracle (Ein Wunder, 1999, doc.), Back to the Reich with "Bubi" (Mit "Bubi" heim ins Reich, 2000, doc.), Absolut Warhola (2001, doc.).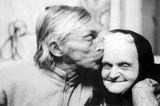 + 1
About the film
Black & white, 35 mm

| | |
| --- | --- |
| Section: | Documentary Films in Competition |
| | |
| Director: | Stanislaw Mucha |
| Screenplay: | Stanislaw Mucha |
| Dir. of Photography: | Susanne Schüle |
| Editor: | Stanislaw Mucha |
| Producer: | Stanislaw Mucha, Dieter Reifarth |
| Production: | strandfilm, ve spolupráci s/ in co-production with: Pandora Film |