United Kingdom / USA
2002, 100 min

Section: Out of Competition
Year: 2002
A film adaptation of Nick Hornby's comic best-seller About a Boy. One day 38-year-old Will begins playing the forsaken father, since he's discovered it works well with the ladies. But then a strange kid named Marcus gets in the way. Only in time does Will come to realise how much the boy means to him.
Synopsis
Thirty-eight-year-old Will is a typical London playboy. He's rich, single, childless and carefree. But only up until the moment when one of his countless girlfriends, whom he likes to replace at a brisk rhythm, dumps him. And why? Because of her kid. And it's just this new and entirely unintelligible experience which brings Will to an unspoiled "hunting ground" – the Lonely Parents Society, made up almost exclusively of single or divorced mothers. Thanks to Susie, the most attractive of them all, Will meets Marcus. He's a strange kid but his mother, Fiona, is even stranger. During a weekend while her son is staying with the neighbours, Fiona tries to commit suicide. Suddenly, contrary to his wish, Will finds himself in the role of saviour and foster dad. Surprisingly, the "brat" takes to him even though he well realises that Fiona and Will haven't got a snowball's chance in hell. From the first, the adult in the situation is none too pleased that Marcus is his daily guest. He disturbs his lounging existence, his occupation as a flake. But when the tables turn, Will really needs the boy as he begins to understand that Marcus is the only person who truly matters to him.
About the director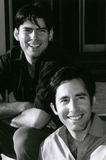 Paul Weitz (b. 1966) and Chris Weitz (1970) were destined for a career in pictures. Their grandfather, Paul Kohner, was a well-known agent who represented Billy Wilder, John Houston and Ingmar Bergman. Their mother, Susan Kohner, was nominated for an Academy Award, and their father, John Weitz, is a fashion designer with literary ambitions. Paul studied film at Wesleyan University and debuted as a director with the successful American Pie (1999). Chris graduated from Cambridge in English literature. He then worked as a journalist while he and his brother cooperated on the screenplay for AntZ (1999). But after deciding on a diplomatic career he requested a year's postponement so that he and Paul could realise a movie adaptation of Nick Hornby's best-selling comic novel, About a Boy, which they also directed.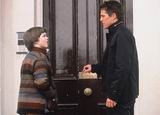 + 1
About the film
Black & white, 35 mm

| | |
| --- | --- |
| Section: | Out of Competition |
| | |
| Director: | Paul Weitz, Chris Weitz |
| Screenplay: | Chris Weitz, Paul Weitz, Peter Hedges podle románu/based on the novel by Nick Hornby |
| Dir. of Photography: | Remi Adefarasin |
| Music: | Damon Gough |
| Editor: | Nick Moore |
| Producer: | Tim Bevan, Robert De Niro, Brad Epstain, Jane Rosenthal, Eric Fellner |
| Production: | Universal |
| Cast: | Hugh Grant, Toni Collette, Rachel Weisz, Isabel Brook, Sharon Small, Nicholas Hoult, Victoria Smurfit, Madison Cook, Jordan Cook, Nicholas Hutchison |