Canada
2002, 115 min

Section: Horizons
Year: 2002
Vastly different stories involving multiple time planes are linked together by an intricate plot: an artist paints a portrait of his mother. A director shoots his masterpiece. A young man goes through customs. A young woman seeks the truth relating to the death of her father. A research worker immerses herself in history in order to forget about her own past. An actor accepts a role as a negative character without thinking about the consequences. Through these characters the director Atom Egoyan draws together the fate of the Armenian nation.
Synopsis
The subject of this film concerns a complex quest for truth in both the past and the present. Raffi, who returns to Canada with mysterious cargo in tow, is just on the verge of adulthood. For the customs officer David (Christopher Plummer) Raffi represents his last case before retirement. According to Raffi, the film canisters he's carrying contain "additional" material prepared in Turkey for use by a Toronto film crew shooting a period film about the genocide of Armenians in 1915. It comes out, however, that the film being made by a famed Armenian director (Charles Aznavour) has already been completed. Why then did Raffi decide of his own accord to set out for the land of his ancestors? During the course of the interrogation the film combines both scenes of the filming and events which preceded Raffi and David's chance meeting at the airport. Raffi struggles with memories of his father, a man who died as a terrorist, but also with his relationship to his mother, Ani (Arsinée Khanjian). An art historian, she specialises in the work of the great Armenian-bred abstract expressionist painter Arshile Gorky who as a child witnessed the massacre of the Armenian population. Another character seeking the truth is Raffi's step-sister, Celia, who blames Ani for her own father's death.
About the director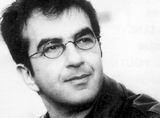 Atom Egoyan (b. 1960, Cairo) is of Armenian origin but grew up in Canada, where he graduated from the University of Toronto in 1982. He has worked in theatre and shot a number of short films: Howard in Particular (1979), After Grad with Dad (1980), Peep Show (1981) and Open House (1982), but he gained recognition with Next of Kin (1984). He received international renown with Family Viewing (1987), Speaking Parts (1989) and The Adjuster (1991), which were awarded at various festivals. The film image serves as a fundamental means of communication for his complicated plots and the characters' psychology. He was one of six directors to participate on Montreal Sextet (1992), in Calendar (1993) he explores his relationship to Armenia, and Exotica (1994) investigates a fascination with ambiguity. The Sweet Hereafter (1997) and Felicia's Journey (1999) followed. The central characters of his films are often officials standing outside the plot but drawing into it the circumstances of their own lives and curiosities. The customs officer David in Ararat (2002) is just such a character.
About the film
Black & white, 35 mm

| | |
| --- | --- |
| Section: | Horizons |
| | |
| Director: | Atom Egoyan |
| Screenplay: | Atom Egoyan |
| Dir. of Photography: | Paul Sarossy |
| Music: | Mychael Danna |
| Editor: | Susan Shipton |
| Producer: | Robert Lantos |
| Production: | Serendipity Point Films |
| Cast: | Charles Aznavour, Eric Bogosian, Brent Carver, Marie-Josée Croze, Bruce Greenwood, Arsinée Khanjian, Elias Koteas, Simon Abkarian, Christopher Plummer, David Alpay |