Germany
2016, 94 min

Section: Another View
Year: 2017
Hordes of people make their way towards entrance gates crowned with the notorious slogan Arbeit macht frei. Why do they visit places that bear such appalling vestiges of the past? This documentary, examining cultural memory in today's world, has featured at various major IFFs since its premiere at Venice.
Synopsis
Nazi concentration camps are still a reminder of our recent history. What lures people today to places that are so grievously etched in our cultural memory? Are visits to sacred memorial sites any different from routine tours of secular monuments, or have they simply become destinations that tourists tick off their list after they've taken a series of smiling selfies? The title of Sergei Loznitsa's film refers to the eponymous novel by W. G. Sebald. Like the book's main character Austerlitz, the director also sets out on a journey to the scenes of mass killings to reflect upon human nature and historical upheaval. In static black-and-white images he records people visiting the former Sachsenhausen concentration camp. The director allows the visitors to speak for themselves, leaving the camera rolling without commentary as he captures their reactions, enhanced only by a sophisticated soundtrack. After his previous titles focusing on revolutionary turmoil Maidan (2014) and The Event (2015), Loznitsa now delves deeper into the past in order to uncover the essence of the present.
Kamila Dolotina
About the director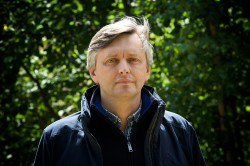 Sergei Loznitsa (b. 1964, Baranovichi, Byelorussian SSR) studied mathematics and then moved on to film school in the 1990s. Even his very first artistically stylised documentaries placed him right up there among Europe's elite directors. His contemplative films, screened regularly at KVIFF, subtly and precisely conjure up the tangible essence of the Russian landscape (Landscape, 2003), of stagnation (The Train Stop, 2000) and, elsewhere, of archetypal industrial operations (Factory, 2004). Loznitsa's documentaries reflect both current events (Maidan, 2014) and key moments in Russian history (Blockade, 2006; The Event, 2015). The director made his first foray into feature film direction in 2010. His latest offering A Gentle Creature (2017), like his two previous titles My Joy (2010) and In the Fog (2012), was screened in the main competition at Cannes.
Contacts
Imperativ Film
Kaiserstraße 11, 12209, Berlin
Germany
E-mail: [email protected]

About the film
Black & white, DCP

| | |
| --- | --- |
| Section: | Another View |
| | |
| Director: | Sergei Loznitsa |
| Screenplay: | Sergei Loznitsa |
| Dir. of Photography: | Sergei Loznitsa, Jesse Mazuch |
| Editor: | Danielius Kokanauskis |
| Producer: | Sergei Loznitsa |
| Production: | Imperativ Film |
| Contact: | Imperativ Film |
Guests
Sergei Loznitsa
Film Director