Archive of films

Axolotl Overkill / Axolotl Overkill
Germany
2017, 94 min

Section: Another View
Year: 2017
Although just 16, Mifti is already well aware of her electrifying appeal. It's not just her provocative sexuality, but an assertive disposition that places her in the company of older people who are no strangers to a bohemian lifestyle and parties that last for days. A sexual relationship with an older woman and closer intimacy with a beautiful actress only add to the confusion in the heroine's head.
Synopsis
If there's something that 16-year-old Mifti (Jasna Fritzi Bauer) doesn't live up to, it's the image of the well-behaved, well-ordered girl. Her mother is dead, her father is too taken up with himself, and the two siblings she occupies the house with aren't exactly textbook examples of responsibility and stability. Mifti doesn't think much of spending time with her peers, and why would she when she's in a sexual relationship with an older woman? The provocative girl's taxing lifestyle is further intensified when she meets a spontaneous, mentally-dodgy actress named Ophelia (Mavie Hörbiger), whom Mifti takes out on wild nights that stretch into days. Is it just a stage of discovery connected to the trauma suffered by the teenage protagonist, or is her true, independent nature now finding expression? Based on the director's own novel, Axolotl Roadkill, the film's controversial content involves the masterful demolition of the stereotypes of female sexuality and behavior, amplified by a bold, over-the-top style. Just as the girl is unafraid to explore and experiment, the film fearlessly departs from the limits of realistic narration in order to offer audiences a refreshing and spontaneous spectacle.

Sandra Hezinová
About the director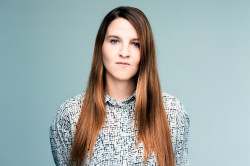 Helene Hegemann (b. 1992, Freiburg im Breisgau, Germany) can be proud of her output thus far: At 14 she wrote the script for the medium-length film Torpedo, which screened in 2008 at the Hof Film Festival and was subsequently released in theaters. She is also the author of the stage play Ariel 15, which she then reworked into a radio play after it received strong reviews. In addition to Axolotl Roadkill, the novel on which she based her feature film debut, she published another book in 2013 entitled Hunting Two Tigers (Jage zwei Tiger). Hegemann holds the Max Ophüls Prize for young artists.
About the film
Color, DCP

| | |
| --- | --- |
| Section: | Another View |
| | |
| Director: | Helene Hegemann |
| Screenplay: | Helene Hegemann podle režisérčina románu / based on the director's own novel Axolotl Roadkill |
| Dir. of Photography: | Manu Dacosse |
| Music: | Milena Fessmann |
| Editor: | Bettina Böhler |
| Art Director: | Sylvester Koziolek |
| Producer: | Hanneke Van der Tas, Alain de la Mata |
| Production: | Vandertastic |
| Cast: | Jasna Fritzi Bauer, Arly Jover, Mavie Hörbiger, Laura Tonke, Julius Feldmeier |
| Sales: | The Match Factory |
| Distributor: | Aerofilms |
Guests
Ivo Andrle
Distributor