Denmark
2017, 30 min

Section: Future Frames: Ten New Filmmakers To Follow
Year: 2017
Like a modern utopia, an unusually beautiful structure surrounded by the wilds of nature serves as the location for an encounter between two women. One seeks peace and relaxation, the other is creating an acoustic installation that intrudes upon the motionless calm. Frustration over this unplanned-for cohabitation grows and the differences between dream and reality begin to blur.
Synopsis
A young woman comes to a remote island to get away from it all, taking refuge at a modern studio utopia. All she needs is restorative peace and quiet, but her stay is jarringly interrupted by an intruder: an artist whose acoustic installation disturbs everything that the starkly empty house has to offer. The tension between the two women rises and the motionless calm gives way to growing frustration and anger. Emerging from the wilds of nature, the house becomes the third character of the story – a labyrinth in which contrasting personalities meet and differing lifestyles and expectations clash.
Anna Kořínek
About the director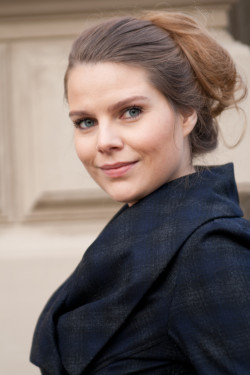 Elsa María Jakobsdóttir graduated from the National Film School of Denmark in 2017, the first Icelandic woman to be accepted into the directing program. Her first short doc And Rolling (Teipið gengur, 2008) premiered at the Reykjavík IFF in 2008. Her first short feature Megaphone (2013) was judged best Icelandic short at the Northern Wave festival and was included in the program of best Nordic films at the Nordisk Panorama festival.
About the film
Color, DCP
International premiere
| | |
| --- | --- |
| Section: | Future Frames: Ten New Filmmakers To Follow |
| | |
| Director: | Elsa María Jakobsdóttir |
| Screenplay: | Elsa María Jakobsdóttir |
| Dir. of Photography: | Annika Aschberg |
| Music: | Johan Carøe |
| Editor: | Mark Bukdahl |
| Art Director: | Josefine Else Larsen |
| Producer: | Anna Malmkjær Willumsen |
| Production: | Den Danske Filmskole |
| Cast: | Rosalinde Mynster, Anna Rothlin |
| Contact: | Icelandic Film Centre, Elsa María Jakobsdóttir |
| | |
| www: | http://www.efp-online.com/en/project_talent_promotion/future_frames.php |
Guests
Elsa María Jakobsdóttir
Film Director