Archive of films

Andrzej Wajda: Let's Shoot! / Andrzej Wajda: Róbmy zdjęcie!
Poland
2009, 54 min

Section: Out of the Past
Year: 2017
The documentary captures the two-month working process of 81-year-old Andrzej Wajda while shooting exteriors for Katyn, a film that reflects the tragedy of his own family. More than just a close-up look at his masterful management of a massive shoot, the eloquent fragments compose a portrait of this exceptional creator, winner of an Academy Honorary Award in 2000.
Synopsis
Realized by four former Andrzej Wajda students, the movie follows the titan of Polish and world cinema during the two-month shooting of his film Katyn. Their careful observations take in the director's daily work routine, which involves, as he himself notes at one point, managing a huge enterprise and taking responsibility for everything that happens. We see him correcting acting performances and camera angles, and not even the smallest imperfection in a crowd scene escapes his notice. Katyn's tragic topic deeply touches Wajda, whose own father was killed during the massacre, and influences the overall tone and impact of this documentary, giving it a deeper dimension. The aptly chosen musical arrangements, in which motifs of subdued pathos weave through virtually the entire film, contribute to this effect, as does having the director generally speak off-camera. His individual considerations thus interlink more clearly, and Wajda emerges from the documentary as a formidable thinker and strong creative personality.
Zdena Škapová
About the director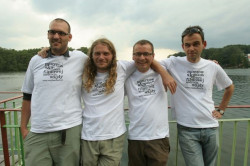 Paladino Film Group was founded by four moviemakers who studied documentary direction together at the Andrzej Wajda Master School of Film Directing, established in Warsaw in 2001. Thierry Paladino (b. 1981, Nice), who also studied in Aix-en-Provence and at the Academy of Fine Arts in Marseille, hails from France but the other members are Poles: Marcin Sauter (b. 1971, Bydgoszcz), Piotr Stasik (b. 1976), a Warsaw University graduate in the social sciences, and Maciej Cuske (b. 1972, Bydgoszcz). In addition to their own independent projects honored at domestic and international festivals, together they have created documentaries whose primary focus is everyday life in contemporary Poland. Selected filmography: Old Book Store (Antykwariat, 2005), The Suburban Train (Elektryczka, 2005), At the Datcha (Na dzialce, 2006), The First Day (Pierwszy dzień, 2007), My City (Moje miasto, 2008).
About the film
Color, DCP

| | |
| --- | --- |
| Section: | Out of the Past |
| | |
| Director: | Marcin Sauter, Maciej Cuske, Thierry Paladino, Piotr Stasik |
| Dir. of Photography: | Maciej Cuske, Marcin Sauter, Piotr Stasik, Thierry Paladino |
| Editor: | Anna Dymek, Miłosz Hermanowicz |
| Producer: | Katarzyna Ślesicka |
| Production: | Wajda Studio |
| Coproduction: | Telecom Poland |
| Sales: | Wajda Studio |
Guests
Agnieszka Rostropowicz-Rutkowska
PR & Marketing, Producer