Archive of films

After the Reunion / Luokkakokouksen jälkeen
Finland
2016, 14 min

Section: Future Frames: Ten New Filmmakers To Follow
Year: 2017
Fifty-year-old Saila doesn't wake up after a class reunion in the most comfortable position. A long-forgotten former classmate is in bed with her, and despite the fact that he's enjoying their morning together, she'd rather suppress the entire situation. While toned with humor and tenderness, the encounter after so many years also reveals disappointment and a hangover of moral dimensions.
Synopsis
Fifty-year-old Saila wakes up after a class reunion to find that 1) she's not in her own bed, and that 2) she's sharing it with Esa, a vaguely-remembered classmate. Their morning together brings a lot with it: flashes of last night's bash but also of other parties that are long since past. The memories refresh old emotions which mingle with her current feelings, those that have been enriched by skepticism about life – and by her hangover. Esa would prefer to have scrambled eggs, but a single question is eating away at Saila: Is it true that the older we get, the stronger we become, or do people just say that?

Anna Kořínek
About the director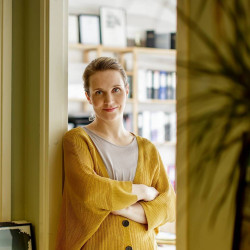 Kirsikka Saari (b.1973, Helsinki) is cofounder of Tuffi Films. Before becoming involved in movies, she graduated from Helsinki University and then worked as a journalist. She wrote the script for the short Do I Have to Take Care of Everything? (Pitääkö mun kaikki hoitaa?, 2012), which earned an Oscar nomination. She penned the short Girls' Night (Tyttöjen ilta, 2008) and co-wrote the award-winning short Gorilla (2009) and the feature Korso (2014). Her directing debut came with the short film Boyfriend (2013).
Contacts
The Finnish Film Foundation
Kanavakatu 12, 2nd floor, 00160, Helsinki
Finland
Tel: +358 962 203 00
Fax: +358 962 203 050
E-mail: [email protected]
www: www.ses.fi

Kirsikka Saari
Kotisaarenkatu 6 B 34, Helsinki,
Finland
E-mail: [email protected]

About the film
Color, DCP

| | |
| --- | --- |
| Section: | Future Frames: Ten New Filmmakers To Follow |
| | |
| Director: | Kirsikka Saari |
| Screenplay: | Kirsikka Saari |
| Dir. of Photography: | Jonatan Sundström |
| Editor: | Inka Lahti |
| Art Director: | Oona Koriala |
| Producer: | Marja Pihlaja |
| Production: | AALTO UNIVERSITY School of Arts, Design and Architecture |
| Cast: | Sari Siikander, Petteri Pennilä |
| Contact: | The Finnish Film Foundation, Kirsikka Saari |
| | |
| www: | http://www.efp-online.com/en/project_talent_promotion/future_frames.php |
Guests
Kirsikka Saari
Film Director
Jaana Puskala
Film Institution Rep.
Jonatan Sundström
Director of Photography