Archive of films

Asthenic Syndrome / Astenicheskiy sindrom
USSR
1989, 153 min

Section: Six Close Encounters
Year: 2015
Sergei Loznitsa presents
Two stories depicting the disintegration of the personality amid an oppressive reality that transforms a normal person into a flawed individual. This bleak fresco on the state of Soviet society at a time when perestroika was thriving won the Special Jury Prize at the Berlinale (1990). An uncontested masterpiece of world cinema.
Synopsis
Muratova's restored opus magnum, whose title refers to a form of defective psychological behaviour, is a clinically precise diagnosis of Russian society during the perestroika years. The ingenious fresco portraying this "restructured" period comprises two loosely connected stories. On the one hand, a black-and-white drama about a doctor who has just buried her beloved husband and whose painful loss compels her to act aggressively towards the hypocritical world around her. Then we have the tale – presented in colour – of a teacher who wants to devote himself to writing yet finds he can't concentrate in these restless times; instead, he responds to his disturbing reality by falling into a deep slumber. Muratova blends her allegorical motifs with unforgiving naturalistic scenes which the viewer finds difficult to follow but is then rewarded with a profound sense of reflexion. Despite the Soviet abolition of censorship at the time of its completion, the movie's controversial final scene prevented its distribution, and it was only after being smuggled out of the country via the Baltic states that the film was able to compete at the Berlinale, where it won the Special Jury Prize (1990).
Kamila Dolotina
About the director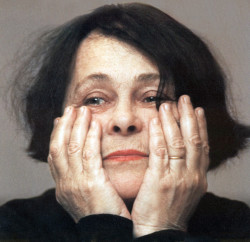 Kira Muratova (b. 1934, Soroca, Moldova) is both a living legend and one of the most marginalised figures of Russian cinema. In the past her distinctive work failed to conform to ideological requirements, and today it isn't compatible with commercial trends. Over the past 55 years she has made twenty films which are distinguished for their unique ability to articulate the most fundamental qualities of society at any given point in history. She began with the lyrical melodramas Brief Encounters (1967) and A Long Goodbye (1971). After her masterpiece The Asthenic Syndrome (1989) she began experimenting with film composition and genres in Three Stories (1997) and Chekhov's Motifs (2002). Despite recently turning 80 Muratova has lost none of her sharpness and vigour, and her supremely idiosyncratic works are unquestionably some of the most intriguing to come out of the post-Soviet environment.
About the film
Color, DCP

| | |
| --- | --- |
| Section: | Six Close Encounters |
| | |
| Director: | Kira Muratova |
| Screenplay: | Kira Muratova, Sergey Popov, Alexandr Tschernych |
| Dir. of Photography: | Vladimir Pankov |
| Editor: | Valentina Olejnik |
| Art Director: | Yevgeni Golubenko |
| Production: | Odessa Filmstudio |
| Cast: | Olha Antonova, Sergey Popov, Halyna Zakhurdaeva, Nataliya Buzko |
| Sales: | Oleksandr Dovzhenko National Centre |