Israel / France
2004, 110 min

Section: Another View
Year: 2004
Michale Shemi lives in Tel Aviv, is married with a little boy, and works in her father's firm. But life in her orthodox Jewish family, so controlled by prohibitions, smacks more of prison than home.
Synopsis
Michale Shemi, a kindly woman in her thirties, is a member of an orthodox Jewish family from Tel Aviv. She works at her father's company, is married with a little boy, and it seems that she is leading a balanced and fulfilling life. Only now and again do flashes of dissatisfaction plague her, primarily during traditional holidays at which her father strictly adheres to strict religious rituals, refusing to listen to those closest to him. His daughter, however, has to conceal an inner drama and connot confide in anyone. The secret emotion and the tragedy she experiences shatter everything which held her life together until now. Michele doesn´t want to hurt any of those close to her but she also knows that she cannot go on like this. Strict rules apply to married women within the Orthodox Jewish Yemenite community, and the young mother knows what awaits he if she defies it... The film was screened at the Berlin IFF and the lead is played by Asi Levi who is herself a Yemenite. For her previous roles in the films Urban Feel and The Investigation Must Go On she won Israeli Film Awards in 1999 and 2000.
About the director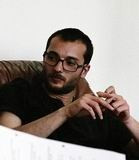 Raphaël Nadjari (b. 1971, Marseilles) was born in France, although his grandparents came from Egypt and Turkey. In 1995 he put together an international team made up of European, American, and Israeli creative personalities and producers, and together they began making features. His debut came in 1999 with The Shade, a film shot in New York and screened at Cannes. His second feature, I Am Josh Polonski's Brother (2001), oscillates between family fare and film noir; it was shot in 15 days and premiered at Berlin in the Forum of New Film. The director rounded out his New York trilogy with Apartment #5C (2002), presented once again in the Director's Fortnight at Cannes. His latest film was shot in Israel, and Nadjari had this to say about the work: "In Hebrew the word avanim means "stones." This country is full of stones, all of them symbols... They can serve to destroy, but they can also serve to construct, to build. There's a saying that dates back to Saint Just during the French Revolution: "With the same stones, we can build either freedom's temple or it's tomb."
Contacts
BVNG Productions
15, rue des Platrieres, 75020, Paris
France
Tel: +33 1 487 898 36
Fax: +33 1 487 816 94
E-mail: [email protected]

Transfax Films
3 Yagia Kapayim Street, 67778, Tel Aviv
Israel
Tel: +972 368 712 02
Fax: +972 368 714 99
E-mail: [email protected]
www: www.transfax.co.il

About the film
Color, 35 mm

| | |
| --- | --- |
| Section: | Another View |
| | |
| Director: | Raphaël Nadjari |
| Screenplay: | Raphaël Nadjari |
| Dir. of Photography: | Laurent Brunet |
| Music: | Nathaniel Mechaly |
| Editor: | Godefroy Fouray |
| Producer: | Geoffroy Grison, Marek Rozenbaum, Itai Tamir |
| Production: | Transfax Film Production,co-production:BVNG Productions |
| Cast: | Asi Levi, Uri Gabriel, Florence Bloch, Shaul Mizrahi, Danny Steg, Gabi Amrani-Gur, Eli Eltonyo |
| Contact: | BVNG Productions, Transfax Films |
Guests
Marek Rozenbaum
Producer